About Us

Chemicals find there use in various industries. From construction to food making products, research centers, schools hospitals,etc. Chemicals are a inevitable part of our lives. They are found in every part of our lives . We understand the importance of chemicals and to serve our clients perfectly designed chemicals we, HariKrishna Enterprise are a proud manufacturer, exporter, supplier and wholesaler of a wide variety of effective chemicals which include 2 Bromo Ethanol, 2- bromo-5-hydroxy benzaldehyde, 2-bromo-3-chloropropiophenone, 2-Bromo-4- Methylpropiophenone, 2-Bromoiodobenzene, 2,4 dichloropyrimidine, etc. The quality of our chemicals has been liked and appreciated by our clients as a result of which we have been able to make a name in the market. We have also been getting recurring orders from our clients which itself speaks about the quality of our range.

Quality Assurance


Quality Assurance is one of the primary things that a customer looks for. We understand the importance of quality and to serve our clients a premium quality range of chemicals we make our chemicals pass through different tests. Our chemical from the manufacturing to the processed part is being taken care of by a team of professionals which are well versed in their field. This helps us to assure that we manufacture and deliver premium quality chemicals which are designed by experts and are tested by matter experts on our team. We also check the quality of our chemicals in different laboratory made weather conditions which helps us to know about their reactivity as well as their exposure to various elements.

Years of Experience
we are in this domain form the past decade and it has taught us many things. We have learn from our experiences as well as we have been able to grow because of the premium quality of our range, normative pricing , perfectly manufactured chemicals, and by adopting customer satisfaction policies. We also make that we hire professionals for our work which have a knack for chemicals as well as willing to grow in the industry. Some of the reasons which has helped us to grow and retain our position in the market are:

Transparency in Deals
Perfectly Designed Chemicals
Normative Pricing
Chemically tested and verified by a team of experts.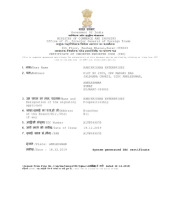 Read More